Any dress shoe style can have brogueing. Brogue simply refers to the decorative perforations in various patterns on dress shoes. Originally, the perforations were holes which were intended to allow water out of shoes: when yomping across crossing wet terrain (wet shoes being inevitable), the holes let water be squeezed out with each step. Brogueing is most often seen on Oxford, derby, and monk strap shoes, and is available in four different toe cap styles: full brogue, longwing brogue, semi-brogue, and quarter brogue.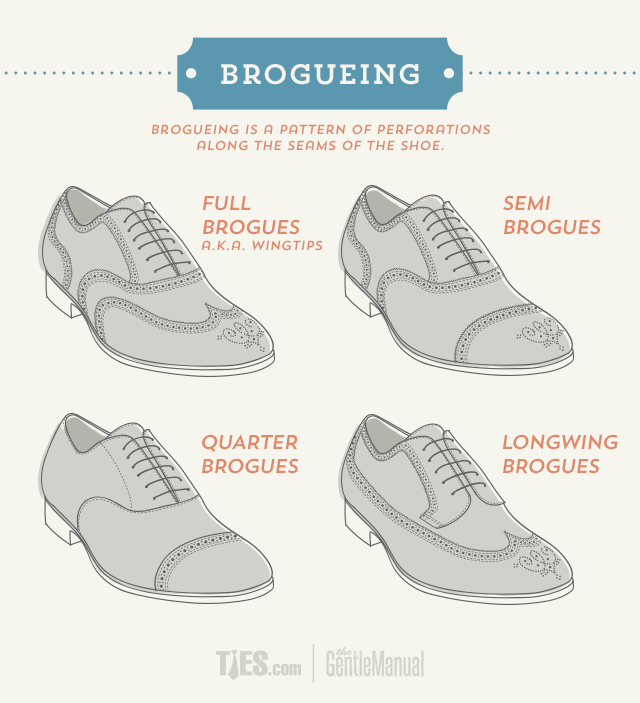 Full Brogues / Wingtips
Also known as wingtips, the wing-shaped cap extends around to the outside of the toes.
Longwing Brogues
Longwing brogues are most commonly seen on the derby shoe. The shoe's brogued wingtip cap continues along the side of the shoe all the way to its center seam in the back.
Semi-Brogues
Semi-brogues, also known as a half brogues, feature broguing along the seam of the cap toe as well as some decorative broguing on the center of the cap toe. This is more subtle than a full brogue.
Quarter Brogues
The most reserved of the lot, the quarter brogue simply features decorative broguing along the seam of the cap toe, with no decoration on the center of the cap toe.